Hillary Clinton Goes After Trump and GOP on Guns: 'Totally Sold to the Gun Lobby'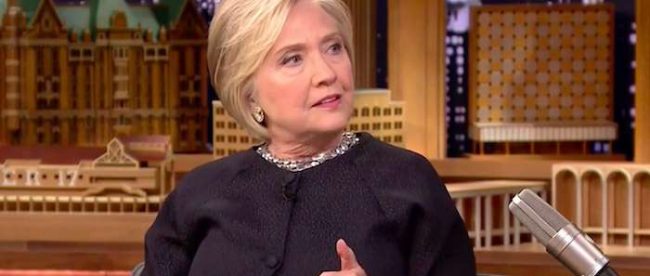 The last time Hillary Clinton sat down with Jimmy Fallon, she was still about six weeks away from the worst night of her life. On that night last September, she handed the host a bag of literal softballs as a way to lightly rib him for his widely-panned interview with Donald Trump just a few days earlier.
On Wednesday night, Clinton returned to The Tonight Show. Fallon didn't dare touch her hair. Rather, he began by asking why there's no question mark at the end of the title of her new book, What Happened.
"There's no exclamation point either," Clinton joked. She went on to explain, as she did on previous book tour stops, that she wanted to "pull the curtain back" and "invite people in to see what happened from my perspective." She again talked about how "devastated" she was as the results of the election became clear on the night of November 8th. But she also said she would have felt differently had she been running against a different Republican opponent.
"I wouldn't be so worried about my country—and the world—as I am now when I see what's going on every single day," Clinton said, adding that she "can't help" but think of how she would do every single thing differently as she watches the Trump administration in action.

Specifically on Puerto Rico, she said, "It's hard to figure out, you know, what are the priorities if 3.5 million Americans—and Puerto Ricans are Americans, let's make sure people remember that—if they aren't the highest priority of your government in responding to such a terrible natural disaster, what are you people spending your time doing, right? Golfing, tweeting, watching cable TV?"

Later, Fallon, in a seeming attempt at absolution for his Trump interview, said, "I've got to tell you that I just think you've dedicated your whole life to this country, and I want to thank you for doing that, and for just everything you've done. I mean, you're in the history books forever."

Clinton assured Fallon that she is not going to stop speaking out on issues she thinks are important. "I've got the freedom to do that," she said. "I'm not running for anything, I can talk about what is at stake in these different decisions that are being made," including "taking on the NRA."

As could have been expected, Clinton received a ton of heat from conservatives this week when she responded to the mass shooting in Las Vegas by tweeting, "Imagine the deaths if the shooter had a silencer, which the NRA wants to make easier to get." Even PolitiFact deemed that statement false. But she was undeterred in her vow to keep fighting on the issue.

"I can't believe that one whole political party in the greatest country on earth is totally sold to the gun lobby," Clinton continued, "and will do whatever they are ordered to do, despite the loss of life." She then called out Trump for signing an executive order upon taking office that reversed an action by President Obama that made it harder for people with mental illness to access guns.

"I mean, this makes no sense," she said. "And the vast majority of Americans, and the vast majority of gun owners, know we need common sense gun safety measures, so I'm going to keep fighting for it and speaking out about it."