Elderly People Riot Nursing Home After Field Trip to Dunkin' Donuts Was Denied, 29 Injured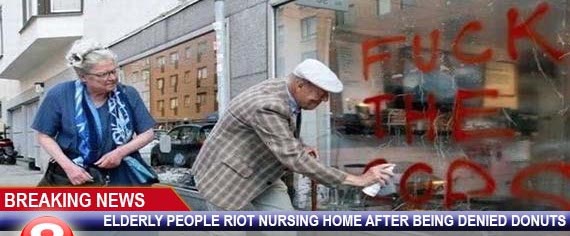 Complete chaos erupted at Shady Creek Assisted Living and Retirement Home community in Detroit, Michigan when a scheduled outing to Dunkin' Donuts was canceled with no explanation. Elderly people living in that community rioted the center with canes and walkers while one elderly resident was swinging his life alert necklace in the air cutting a nurse in the face inside the facility. One couple, who managed to get outside of the facility, were caught spray painting "F*ck The Cops" outside one of the windows.
 "It was complete madness, I've never seen anything like it," said Nancy Reeder, head nurse. Nancy showed Action News 3 an injury she sustained when an elderly man bit her in the arm, leaving his dentures behind. "Mr. Norman came up behind me, grabbed my arm and bit down with his teeth. As he pulled away, his dentures locked onto my skin leaving him in shock and without any teeth. That's when I kicked him behind the knee, and he fell to the ground where I was able to restrain him."
The incident began last week in a previous Dunkin' Donuts outing that left 10 of the elderly residents with stomach cramps and diarrhea. "It was an awful mess we had to clean up," said Reeder. "Their aging stomachs can't really handle all of that sugar. So we decided to cancel all future outings. Apparently, not all of them were in agreement."
In all, 29 people were injured: Out of the 29, 18 were residents of Shady Creek, 5 nurses, and 6 visitors. None of the injuries were life-threatening – just a few broken hips, bruises and scratches.